Gary Taylor's review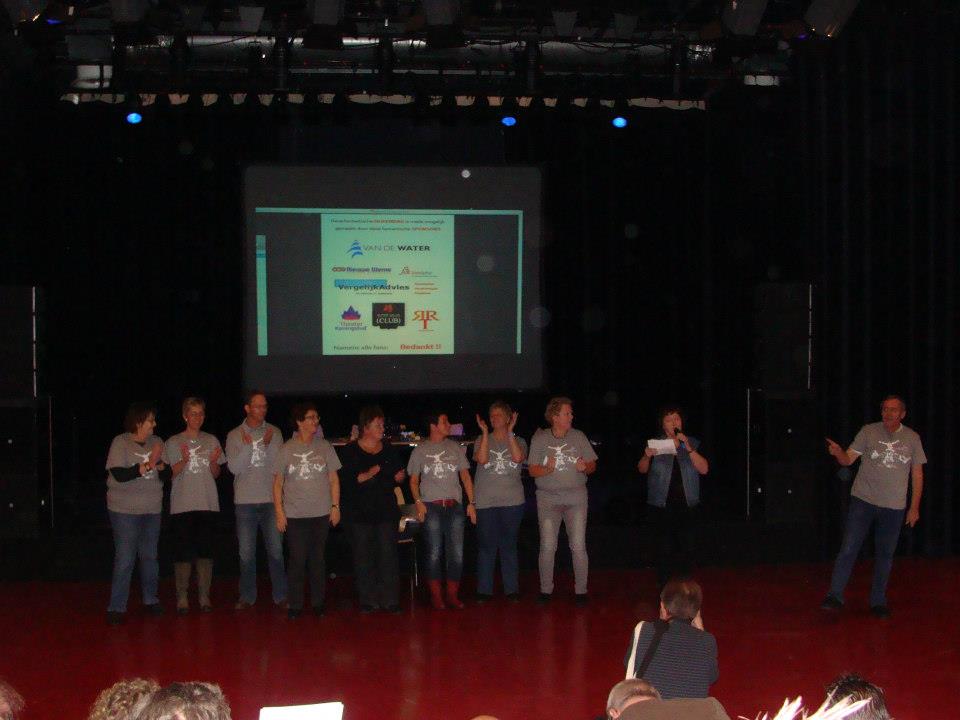 Dutch

Queendag

-

Maassluis

, Holland - 3 November 2012
Along with over 400 other people, I attended this year's

28th

Queen Day convention in the town of

Maassluis

, in the south west of the Netherlands. This was my first visit and I was made to feel very welcome and a great time was had from beginning to end. It was also a good opportunity to make new friends and catch up wi
th

many faces from the past, as this one day event attracts people from all over Holland as well as fans from Belgium, Germany, Hungary and the UK.
As fans were entering the venue of

Koningshof

, an ideally suited and modern building with various rooms and a good size part seated theater, many stalls in the market place were set up in three different rooms including the entrance hall, selling various Queen records and memorabilia.
With

Elles

Dekens

on vocals and backed by the

organisers

of the event (including

Hannie

who has run the Dutch Fan Club since 1981), they led the audience with a welcoming song of We Will Rock You with alternative lyrics. Welcome introductions were made and the day got off to a good start with a quiz and a full

programme

which lasted right till the end of the event at midnight.
A stand set up by Universal was also present in the entrance hall, selling all the new Hungarian Rhapsody - Live In Budapest DVD's and

Blu-ray's

, available to buy two days before the official release date.
The first interview of the day was with

Rik

Konijnenbelt

who had also given permission for a recording of Queen's unheard first concert in Holland at the Hague in 1974 to be released as an exclusive CD at this convention and titled "..You'll

Gonna

Like It!". The original tape was made by people who worked at the

Congrescentre

venue and gave the Queen tape to

Rik

in the 1990's. There were 250 numbered copies made and were available to the first people who reserved a ticket in advance for the convention. A limited edition run of 50 numbered V.I.P copies were also produced.
I was there to do a Q&A session with a big surprise and from the comments I have received, both there and after, looks like it was appreciated and welcome by everyone who attended. I was followed by Peter '

Feebie

' Freestone who gave one of his presentations with much

humour

and interesting stories, this time by looking at photos on the video screen and describing the situations and whereabouts each one was taken.
The first live band of the day was the Queen Unplugged Project from Hungary. These four guys always go down well wherever they play and are probably my

favourite

tribute band as they don't try to look and act like Queen, but present their music stripped down and played acoustically on guitars and percussion with three of the guys also taking on vocals. As well as playing the more familiar songs, many album tracks are pulled out the bag including earlier songs like Son And Daughter, Great King Rat and Long Away.
Throughout the day tickets were sold for the raffle and the charity auction with all proceeds from this going to

Stichting

Stop Aids Now in Amsterdam and a very worthy cause. Many items were auctioned off by

compere

and

organiser

Rinus

Walstijn

including, Roger's signed (and unreleased) boxed digital photo frame, Live At

Wembley

Stadium deluxe

roadie

box set, 40 Years Of Queen book in purple slipcase, a framed Roger Taylor photo, a painting of Freddie, a signed Village Lost And Found book, Greatest Hits III banner, a very rare Christmas card autographed by Freddie, John, Brian and Roger and many more items. A very impressive total of 3050

euros

was raised from this auction alone.
The multi talented musician and Queen fan Robby Valentine closed the event with an exciting Queen filled live performance, playing songs from nearly every Queen album and the odd solo track on piano, keyboards or guitar as well as singing. He was also joined on stage for some songs by his partner and singer

Marlies

Schuitemaker

, including a stunning version of You Take My Breath Away. Singer Peter Strikes also accompanied Robby on some of the songs in this two-hour show. After the concert Robby happily posed for photos and signed his new CD for a long queue of admirers.
After this well

organised

and packed day many farewells were exchanged as people

travelled

back home or to their nearby hotels. If you haven't been to the Dutch Queen Day then try and make a visit, you won't be disappointed. Many thanks to

Sikke

,

Hannie

,

Anja

, Peter, Sander,

Rinus

and

Marijan

and many others who made my stay in Holland a happy and memorable one.