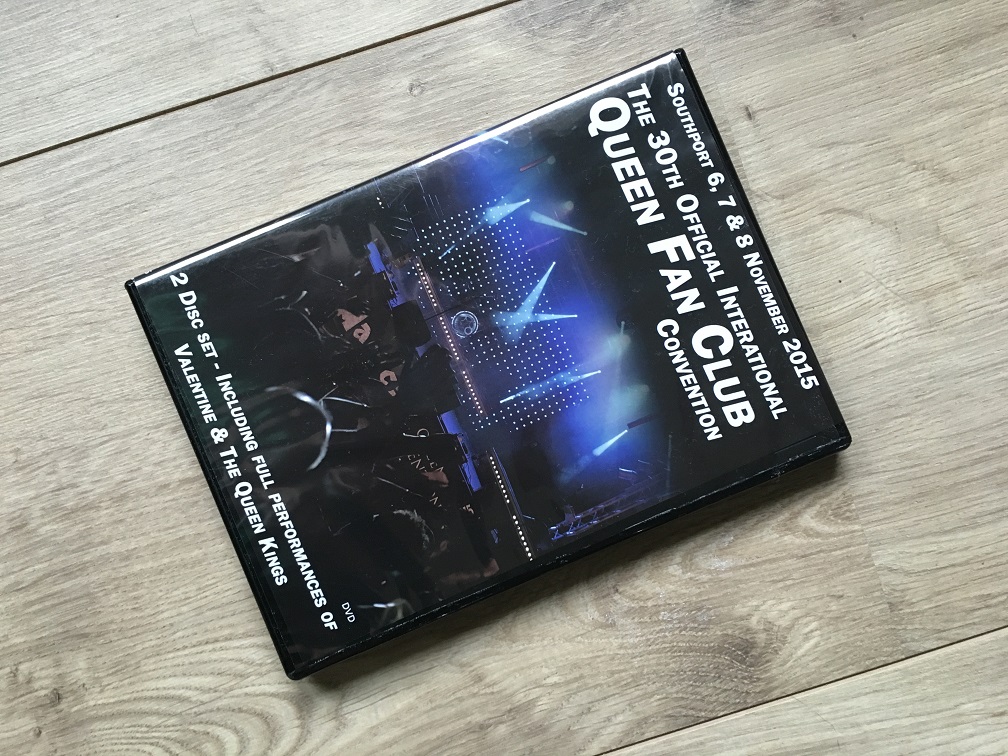 Queen , Valentine & QueenKings fans opgelet:
De dubbel DVD van de 30e conventie is nog te koop. Uitgebreide informatie vind je hieronder.
Klik hier voor het bekijken van de trailer : https://vimeo.com/191121546
De dubbel DVD is te bestellen door € 15,00 + € 2,90 (verzendkosten) over te maken op NL67INGB0001064553 t.n.v. S. van der Veen te Ochten
Of via PAYPAL : sikke@vergelijkadvies.nl
Stuur mij vervolgens een email met daarin naam en adres gegevens : sikkeveen@hotmail.com
Specificaties :
2 fabrieksgeperste dvd's (dvd format 9)
7 uur speeltijd
Genummerde oplage 1000 stuks
Inhoud :
The Queen Kings (complete concert)
Robby Valentine (Valentine : A Tribute to QUEEN) (complete concert) feat Maria Catherina
The Deputies (30 mins)
Queen convention Highlights
Interviews with Peter Freestone – Rosie Horide – Barry Mitchel and Doug Bogie
OVER 7 hours !!!!!!!!!!
2 factory pressed silver DVD's (DVD9 format)
Numered limited edition 1000 Units
8 page booklet
Full content see below :
- Disc 1
The Queen Kings
01. The Fairy Feller's Master-Stroke
02. Tie Your Mother Down
03. In The Lap of the Gods(Revisited)
04. White Queen
05. Liar
06. Flick of the Wrist
07. Lily of the Valley
08. Fat Bottomed Girls
09. Another One Bites The Dust
10. Lazing on a Sunday Afternoon
11. Nevermore
12. The March of the Black Queen
13. My Melacholy Blues
14. The Prophet's Song
15. I Want To Break Free
16. It's A Kind of Magic
17. It's A Hard Life
18. Barcelona
19. The Fallen Priest
20. Guide Me Home
21. Millionaire Waltz
22. Don't Stop Me Now
23. Staying Power
24. Love of my Life
25. Bohemian Rhapsody
26. No-One But You
27. I was Born to Love You
28. The Show Must Go On
29. We Will Rock You
30. We Are The Champions
31. God Save The Queen
Interview : ROSIE HORIDE
Compilation Convention
01. Robby Valentine- Flick of the Wrist
02. Opening by Jacky + A tribute to Val (Queen No-One But You)
03. The Queen Kings - No-One But You
04. Mime contest (Fat Bottomed Girls)
05. Choir of Loretta - '39
06. Peter Freestone about meeting Freddie
07. The Deputies - Cowboys and Indians
08. Peter Freestone about meeting Montserrat
09. The Queen Kings - Barcelona
10. Conventioneers who have been there all 30 times
11. Dancing girl (Freddie Mercury & Montserrat Caballe - Exercises in Free Love, Queen - Bijou)
12. Robby Valentine - Mustapha
13. Interview with early bassists
14. The Queen Kings - Tie Your Mother Down
15. Rosie Horide
16. Robby Valentine - We Will Rock You
17. The Queen Kings - We Are The Champions
- Disc 2
Valentine: A Tribute to Queen
01. Intro
02. We Will Rock You (fast)
03. Seven Seas of Rhye
04. Save Me
05. Flick of the Wrist
06. Lily of the Valley
07. Nevermore
08. Don't Stop Me Now
09. Killer Queen
10. Good Old-Fashioned Lover Boy
11. Bicycle Race
12. Somebody To Love
13. Live Killers Solo
14. Ogre Battle
15. Dear Friends
16. Crazy Little Thing Called Love
17. Too Much Love Will Kill You
18. Mustapha
19. Play The Game
20. Piano Medley (Seaside Rendevous/In the Lap of the Gods(Revisited)/In the Lap of the Gods/Millionaire Waltz/Mr. Bad Guy/It's a Hard Life/Death on Two Legs/The Miracle/Radio Ga Ga/Show Must Go On/Sail Away Sweet Sister/Teo Torriatte (Let Us Cling Together)
21. The Miracle (Reprise)
22. Fat Bottomed Girls
23. Lazing On a Sunday Afternoon
24. Under Pressure
25. Last Horizon
26. Love Of My Life
27. '39
28. Tie Your Mother Down
29. Bohemian Rhapsody
30. No-One But You
31. We Will Rock You
32. We Are the Champions
33. God Save the Queen
The Deputies
01. Crazy Little Thing Called Love
02. Save Me
03. Keep Yourself Alive
04. Cowboys and Indians
05. Death On Two Legs
06. We Will Rock You
07. Tie Your Mother Down
08. Power To Love
Interview Peter Freestone
Interview Barry Mitchell & Doug Bogie