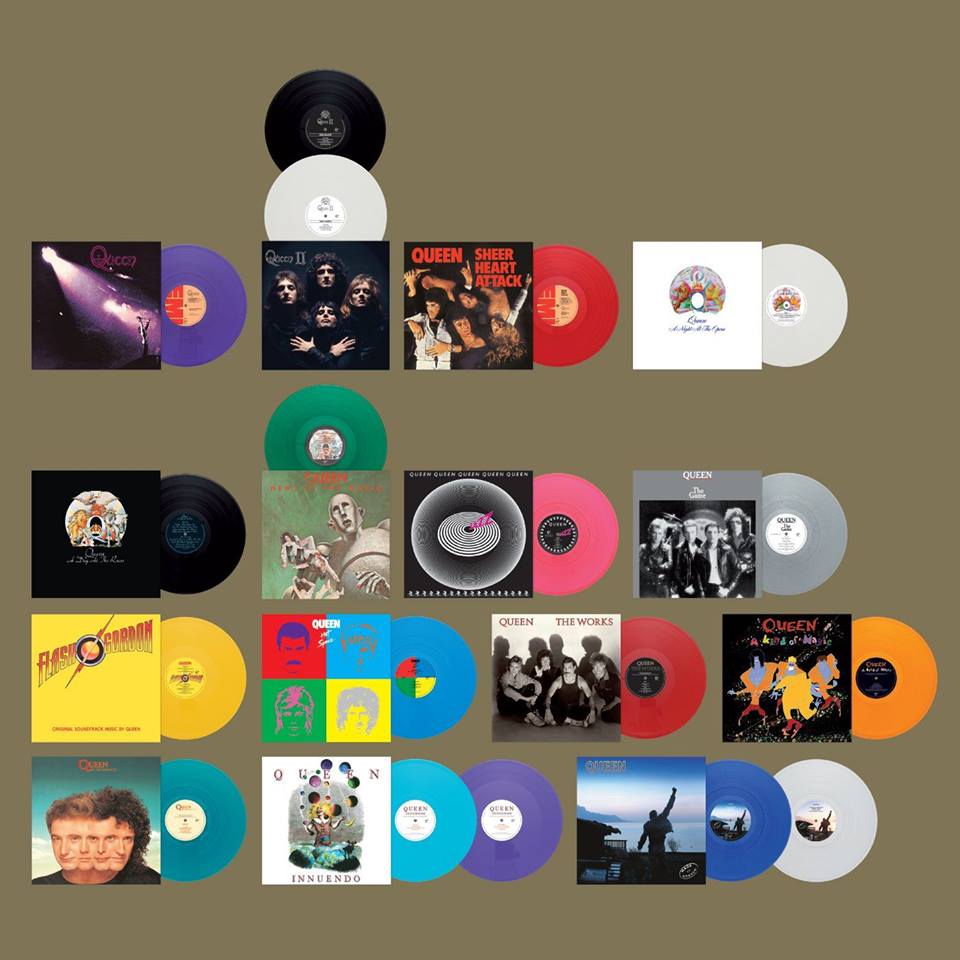 Op 25 september komt er een box uit met alle LP's die Queen ooit heeft uitgebracht op gekleurd vinyl. De box, die er indrukwekkend uit ziet maar wel 400 euro gaat kosten, kan besteld worden via de store van Queenonline. Onderstaand het volledige persbericht over de release:
QUEEN: THE STUDIO COLLECTION
SPECIAL EDITION VINYL BOX SET FOR RELEASE SEPTEMBER 25
ALL 15 HIT STUDIO ALBUMS
SOURCED FROM THE ORIGINAL MASTER TAPES
MASTERED BY BOB LUDWIG
HALF-SPEED LACQUERS CUT AT ABBEY ROAD STUDIOS
PRESSED ON HEAVYWEIGHT 180 GRAM COLOURED VINYL
WITH A LAVISHLY ILLUSTRATED 108 PAGE HARDBACK BOOK
LPs ALSO TO BE AVAILABLE INDIVIDUALLY ON 180 GRAM BLACK VINYL
All box sets will contain download codes for high quality digital versions. 320 kbps MP3s
To coincide, Rega introduce brand new limited edition
'Queen by Rega' customised turntable.
Somehow I have to make this Vinyl Breakthru !
London - July 16th 2015 - Queen on Vinyl: This is how listeners first heard the now legendary Queen in the 1970's when vinyl was the predominant format for recorded music. This September Queen will hit the crest of an already massive wave – a world-wide renaissance of vinyl and record players – with the ultimate set of vinyl LPs, the complete collection of Queen studio albums, re-mastered to the highest standards of quality in both audio and artwork.
The band and their label Universal Music, today announced Queen: The Studio Collection, an 18 disc theme-coloured vinyl LP collection to be released September 25.
This unique package will be complimented with a fully customised limited edition Queen branded turntable made by Rega.
15 albums. 18 discs? What's the story ?
Queen always had a special fondness for vinyl, the medium in which they first began to create, around 1970. As a matter of principle, every Queen studio album was offered at the time of original release on vinyl, even well into the era when CD's had taken over as the medium of choice for most of the public. However, the final two albums, 'Innuendo' and 'Made In Heaven' were actually formatted primarily with the CD in mind, with a longer running time, so the contents had to be edited down to fit them on to the two sides of a vinyl album. Now, specially for this edition, for the first time, these two albums have been cut at full length as double vinyl LP's - four sides each – making up a vinyl set that is complete in every way.
The box-set offers many other special features. Most noticeable is the coloured vinyl: designed for collectors, each album has been given a different colour, in keeping with its original artwork, giving a unique record-deck experience. The colour discs have been custom-produced especially for this set, using new material technology which ensures the sound quality is uncompromised.
There are more surprises in the box set; 'Queen II' originally never had a designated 'A side' or 'B side' - but 'Side White' and 'Side Black'. For this new edition, the album has been cut on two separate discs, black and white, each with a custom etching on the reverse side, a nice bonus for collectors.
The collection has been five years in the making. Throughout this time Queen's production team has worked extensively on all stages of this painstaking mastering process. The first step was the tape research; locating and confirming the correct versions and best sources for all tracks. Most notably,Under Pressure, plus five tracks on the 'Innuendo' album, were improved hugely after the discovery of better sources during this period. Particular attention was paid to the original releases to ensure that nothing was lost or changed for the worse by reverting to earlier sources.
Mastering: To ensure optimum quality in mastering the music, the Queen team asked a number of world-renowned mastering engineers to deliver their best efforts on the same three songs; after double-blind comparison tests, Bob Ludwig's work was a clear winner, and he was asked to master the entire catalogue for this project. Ludwig is probably the best-known mastering engineer in the world. His skills, combined with a perfect acoustic environment and the some of the world's finest analogue and digital equipment at Gateway Mastering in Portland, USA, allow him to produce matchless quality in the final result. The Queen team were pleased to confirm his reputation, as well as fulfilling their own exacting demands.
The original plan was to master everything straight from the analogue mix tapes, where available. But in fact most of those tapes, having suffered from the effects of time, were in need of some restoration. The problems encountered included speed errors, missing audio, newly developing clicks and other unwanted noise. So the decision was made to create new super-high quality digital masters, using 24 bit samples and a sampling rate of 96 kHz. All the restoration was then performed in the digital domain, and the vinyl was cut from these perfected files. All restoration was carried out with the lightest of touches, with a profound respect for the originals, and the resulting masters are undoubtedly the finest ever.
The Cut: Of course, with the vinyl process, everything depends on the final stage – the physical cut – one continuous modulated spiral groove on each side, carrying all the sound information which will eventually reach our ears.
For this process, there was only one man in the frame: Miles Showell at famed Abbey Road Studios, London, has perfected the technique of cutting at half speed. Showell runs the source file and the cutting lathe at 50% of the normal speed, which means double the accuracy in the cutting of the groove, resulting in superior reproduction of the music via the stylus in your record player. Showell uses a beautifully maintained Neumann VMS80 lathe boasting cutter-head amplifiers fitted with custom designed RIAA filters. These filters have been optimised for the very cleanest sound. Showell started by cutting the albums onto acetate discs to check the process for every track, and only after he'd fixed any sibilance or other vinyl-specific problems did he cut the lacquers to be sent to the manufacturing plant.
More trials were carried out before eventually deciding to manufacture at Optimal in Germany. Optimal have an enviable reputation for audiophile-quality pressings, plus unparalleled capability for the printing and manufacture of all the elements to be contained in the box set. The Queen team worked closely with the technicians at Optimal in an exhaustive quality control program where test-pressings of every disc, in black and coloured vinyl, were checked to minimise unwanted noise. Finally, the finished results were compared with original pressings of the LPs, on a top quality modern record player, to answer the question: "Was it all worth it?"
True to the final words of the song: "Yes, it was a worthwhile experience!!!"
*****
The 18 vinyl LP box set comes with a lavishly illustrated 12 x 12 inch 108 page hardback book which features introductions to each album, quotes from Queen themselves, hand-written lyrics, rare photographs, memorabilia, and information on singles and videos - all made possible with unlimited access to Queen's own archive plus the personal archives of Brian May, Roger Taylor and some generous fans. Thanks to all.
The Queen Studio Collection
Queen
Queen II *
Sheer Heart Attack
A Night at the Opera
A Day at the Races
News of the World
Jazz
The Game
Flash Gordon
Hot Space
The Works
A Kind of Magic
The Miracle
Innuendo
Made in Heaven
* 2 disc special edition exclusive to the box set. 1 disc standard edition available separately.
*****
To complete the package, Queen have teamed up with one of the worlds most recognised and respected turntable manufacturers, Rega.
Queen and Rega are proud to announce a brand new limited edition official turntable to coincide with the release of the re-mastered vinyl multi disc box set. The design of this unique custom deck includes reproductions of classic Queen logos, and incorporates the tone arm technology of the multi-award-winning 'plug and play' Rega turntables. Both brand and band are quintessentially English and the combination of engineering and musical achievements make for a perfect match.
Features:
A custom designed high gloss acrylic laminated plinth silk screened with 'Queen by Rega' logo.
Hand built RB101 tone arm
Factory fitted Rega Carbon moving magnet cartridge.
New low noise low vibration 24v synchronous high performance motor.
Silk screen printed 'Queen crest' platter after Freddie's original art work.
Queen dustcover lid badge.
An optional upgrade is available to a handmade high performance (weight matched) moving magnet Rega Bias 2 cartridge. This cartridge is designed specifically for the 'plug and play' RB101 tone arm mounted on the Queen by Rega turntable.
Release date: September 25, 2015.