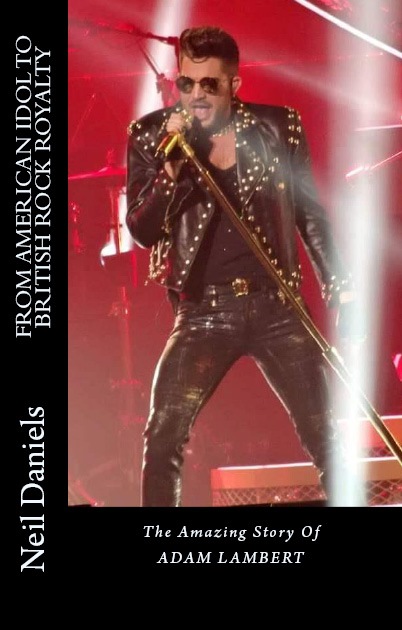 Vanaf morgen ligt er een biografie over Adam Lambert in de winkels, onderstaand de tekst uit de officiële press-release:
PUBLISHED BY CREATESPACE
WORLDWIDE RELEASE DATE: March 4, 2015
ISBN-13: 978-1507866009
ISBN-10: 1507866003
The Inspirational Story Of A Modern Pop Icon
Adam Lambert is a true Hollywood success story. Despite coming second in season eight of American Idol, losing out to Kris Allen, Lambert has become one of the most successful and admired American pop artists of the 21st century. With just two solo albums under his belt, he has sold over two million albums and four million singles worldwide. He has won numerous awards and been nominated for some of the most coveted prizes in the music industry, including the Grammys. He was the first openly gay artist to get a major label record deal, which he achieved with RCA, and the first openly gay pop star to achieve a Number 1 album in the US with his second release, Trespassing, in 2012.
Fiercely talented and stylish, Lambert has drawn inspiration from the likes of Freddie Mercury, David Bowie, Michael Jackson and Madonna with both his vocals and image. Not only is he a singer but also an avid philanthropist and social rights activist.
From American Idol To British Rock Royaltycharts the amazing journey of this humble California kid and how he came to front one of the biggest British rock bands of all time, Queen. He has won great acclaim around the world after touring with Queen in 2012, and then in 2014 and 2015. Drummer Roger Taylorsaid that Lambert has "the best range I've ever heard" in a BBCinterview in 2012.
This book looks into Adam Lambert's inspirational life and career so far.
Details:
5.5" x 8.5" (13.97 x 21.59 cm)
Black & White on Cream paper, Glossy cover
264 Pages
ISBN-13: 978-1507866009
ISBN-10: 1507866003
NEIL DANIELSis the author of acclaimed books on Brian May, Richie Sambora, Bryan Adams, Neal Schon and Rob Halford and a dozen other titles on rock music and pop culture, including biographies of Hollywood actors Matthew McConaughey and Martin Freeman. Visit his official website at www.neildanielsbooks.com