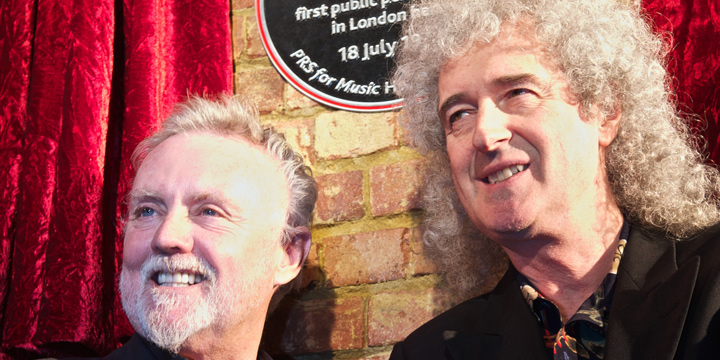 Op 5 maart Queen heeft de PRS for Music Heritage Award ontvangen op Imperial College in Londen - de plek waar de band ooit, op 18 juli 1970, hun allereerste optreden gaf. De zwart/rode plaquette werd onthuld door de voorzitter van de PRS, Guy Fletcher. Zie hieronder het volledige persbericht wat hierover werd verspreid.
05 March 2013: One of the world's greatest bands was honoured with PRS for Music Heritage Award at Imperial College this afternoon where they first played in London on 18th July 1970.
The black and red plaque was unveiled by PRS Chairman, Guy Fletcher in front of close friends and family including Kashmira Cooke, Freddie Mercury's sister. Special guests included Rhys Thomas Director and Producer of the popular documentary 'Queen: Days of our Lives' shown earlier this year on BBC Four.
Queen wrote 16 number one albums, 18 number one singles and sold over 300 million records. They also remain one of the few bands whose members all penned hit songs. Roger Taylor, who accepted the award this afternoon alongside Brian May, famously wrote Queen's landmark hits "Radio Ga Ga" and "A Kind Of Magic" while Brian wrote the anthems, 'We Will Rock You', 'The Show Must Go On' and 'I Want It All'.
PRS for Music established the Heritage Award scheme in 2009 to recognise the vital role live music venues play in launching the careers of the UK's iconic and most influential music talent. Previous recipients include Blur, Elton John, Soul II Soul, UB40, Snow Patrol, Faithless, James, Jethro Tull and Supergrass.
Brian May said: "The first proper gig we did was at Imperial College in the Union Hall. I remember it very distinctly because I'd seen all sorts of people playing in there. I'd been part of the Entertainment Committee and we booked a group every Saturday night in those days. People like Spooky Tooth and Steamhammer! We booked Jimi Hendrix too. So for us it was a dream come true to actually play on that stage. It used to get packed in there so it was a major stepping stone for us."
Roger Taylor continued: ""Imperial College was effectively our positional and spiritual base and so means a lot to Queen. Many good memories, without it…who knows?"
PRS Chairman, Guy Fletcher commented: "It is a true honour to be here today to recognise some of the best British songwriters this country has ever produced and celebrate with so many friends and family. Days like this make me feel very proud and remind me how lucky I am to work at PRS for Music. In Great Britain, music is what we do best, but Queen took it to a whole other level – they are our heritage."