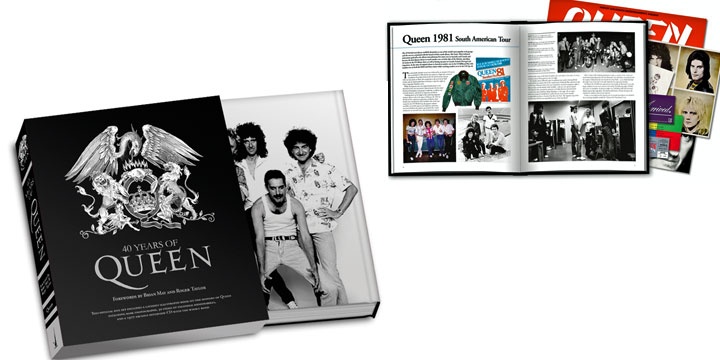 Rond 5 september zal er een nieuw boek over Queen, 40 Years of Queen, verschijnen. Het is een uniek boek over de geschiedenis van Queen en het bevat o.a. onderstaande items:
Liverpoolconcertposter (kerst 1975)
Rainbow poster (1974)
Kaart Rainbow concert (1974)
Tourpack USA met o.a. persbericht, foto's en poster (1973)
Handgetekende tourkaart Europa (1974)
4 Handgeschreven brieven van de bandleden aan de fanclub (1975)
Fax over de blauwe vinyl Bo Rhap (1978)
Racekaart van Kempton Park nav van de lancering van A Day At The Races (1976)
Gesigneerde A Day At The Races poster van de fanclub (1976)
EMI promoflyer voor A Day At The Races (1976)
Persbericht Amerikaanse News of the World (1977)
Backstagepas Europese tournee (1979)
Ticket concert Nagoya, Japan (1979)
Menu Europese tournee (1978)
Ticket voor filmpremiere Flash Gordon (1980)
Uitnodiging voor de 'end of tour party' van Hot Space (1982)
Hot Space promotiekubus (1982)
4 Handgeschreven teksten voor nummers van the Works: I Want To Break Free (John), Hammer to Fall (Brian), It's a Hard Life (Freddie) en Radio GaGa (Roger)
Ticket concert Knebworth (9 augustus 1986)
Promoposter the Miracle (1989)
Poster Crazy Tour (1979)
Stickervel
Interview CD van een interview uit december 1977 wat alle 4 de bandleden hadden met Tom Browne op BBC1
Het boek is bij Amazon al als pre-order te bestellen en kost, inclusief verzendkosten naar Nederland, ongeveer 33 euro. Klik hier.