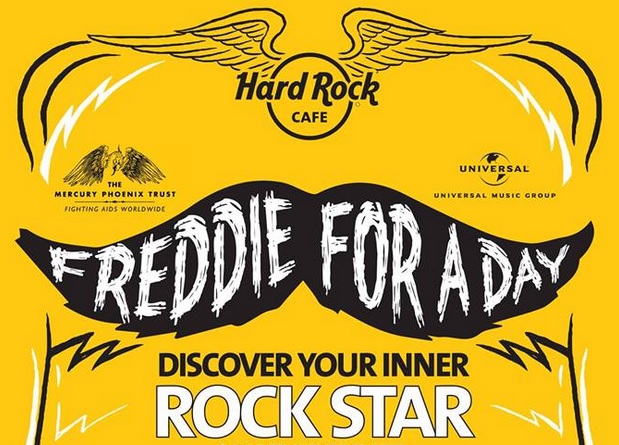 Onderstaand het (Engelstalige) persbericht over Freddie For A Day op 5 september a.s. in het Hardrock Café in Amsterdam!

Join us to celebrate Freddie Mercury and his 70th birthday.
Hard Rock Cafe Amsterdam will be raising money and awareness together with Mercury Phoenix Trust, set up in 1992 in memory of Freddie Mercury, responsible for raising awareness and funding charities globally in the worldwide fight against AIDS.
We offer you a day full of activation's that will take place in our location.
Our attraction partner Madame Tussauds will be bringing along Freddie Wax Statue
Freddie will be standing in our main lobby area for photo opportunities.
Create your own Freddie moment with our props and Freddie's original vacuum cleaner from his famous video 'I want to break free'
When purchasing a Limited Edition Freddie Menu online for 5th September you will be entered into a raffle prize (20 Double CD's up for grabs)
FREDDIE MERCURY DOUBLE CD
MESSENGER OF THE GODS: THE SINGLES
Released on September 2 by Mercury Records/Universal/Hollywood Records
FREDDIE FOR A DAY MENU 2016 € 31.00 (with one mustache included)
STARTER
ANOTHER SPICY BITES THE DUST
Fried Spicy Wings
MAIN COURSE - choice of:
WE WILL ROCK YOUR HICKORY-SMOKED PULLED PORK SANDWICH
Hand-pulled smoked pork with hickory barbecue sauce on toasted brioche. Served with seasoned fries,
cowboy beans and citrus coleslaw.
Or
CRAZY VEGGIE THING CALLED VEGGIE FAJITA
Hot Skillet filled with marinated pepper & onion, topped with grilled vegetable. Tortilla served with salad, pico de gallo, guacamole, mixed cheese and sour cream
Or
RIBS RHAPSODY
Smoked Ribs rubbed with our signature seasonings and basted with hickory barbecue sauce.
DESSERT:
DON'T STOP IT NOW
Hot Fudge Sundae
DRINKS:
One soda choice of: Pepsi, Pepsi Max, 7 Up, Sisi Orange or Soda Water
https://link2ticket.nl/ordermain.aspx?elink=A1hXcUMFfFFLVg&channelid=A1hXcUMFf1pBUw